Welcome to 10 important snippets, tales and take aways from this year's SXSW in Austin. It was probably the most political festival by far.
Every year the Wildstyle Network and associated Startups attend the SXSW tech/film/music festival in Austin to measure the global digital eco system's health. We've been attending 70+ sessions, captured as much as we can and compressed these thesis from these categories:
#CivicTech #SocialMedia #SocialGood #CSR #Bots #StartupCulture #Inclusivity #Diversity #FinTech #AutonomousDriving #Luxury #Sustainability #DigitalMarketing #AI #MachineLearning #Politics #Trump
Take #1: Joe Biden is Calling the Tech Community to Double Down — On Cancer Treatments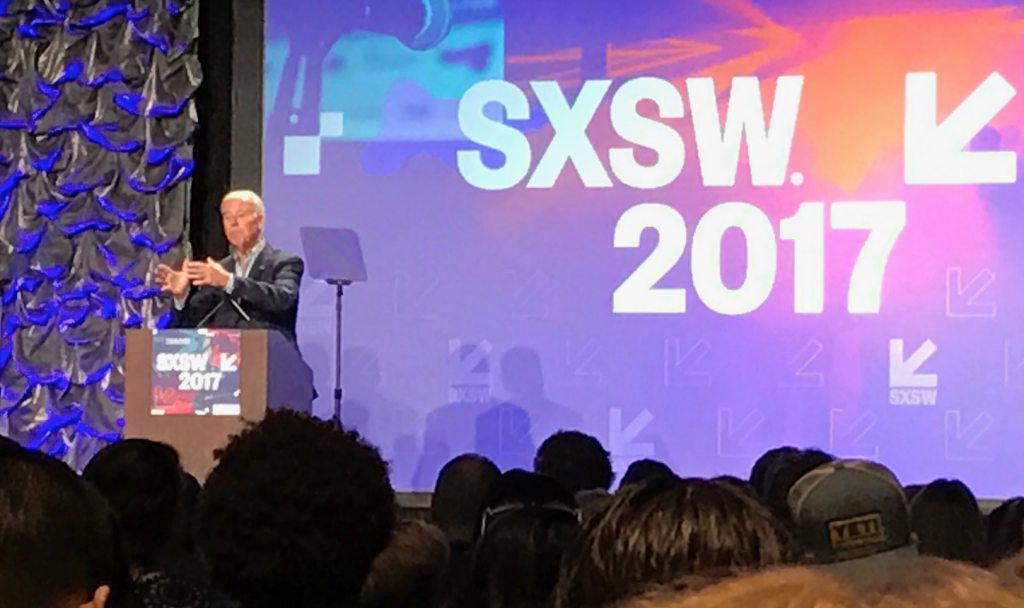 Former vice president Joe Biden visited Austin on Sunday. An endless queue of people were waiting to collect their wristbands since 7am. Watching the crowd, I could tell that it felt even more important to everyone than Obama's visit in 2016.
Biden, who announced his Biden Foundation, called on the tech community to focus on important social issues and not just making a TV episode fluently available on smartphones:
"And I'm confident we can do it. You're already doing it. But let's double down. It is about the urgency of now (to fight cancer)."
His most memorable lines to me were when he spoke emotionally about his son's death and when he quoted and connected with John F. Kennedy's famous "moon shot" speech: "And, let me start with where we believe we are. When we announced the Cancer Moonshot, I knew there would be a lot of skeptics out there who'd say, "well, here we go again. Haven't we done this before?"
Why this is important: Politics and tech never had a stronger bond than within this political climate. Now, Biden is adding "health" to that bond. I think we'll see more appeals like this soon. According to CB Insights, there's a dozen startups focusing on AI and cancer treatments. The deal activity has doubled since 2015.
Take #2: Whitney Wolfe (CEO Bumble) About Dating, Woman And The Power Of Branding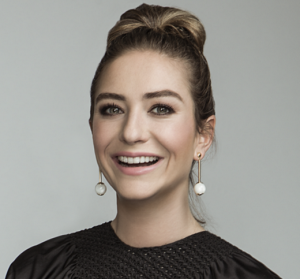 We had the chance to sit down with the Bumble crowd and later listened to their session at the Marriott. Here's the main take away:
"Anyone can replicate your product. No one can replicate your brand."
Every (dating) service should embrace exactly this and should not treat it's users as dumb paying sheep looking for sex.
Nevertheless, my personal opinion is that you have to build a killer product first before welcoming important brand factors.
Why this is important: Wolfe moves beyond technology, turns users into customers and a tech startup into a brand. I assume we'll see more branding efforts and a professionalization with new emerging startups in 2017/18.
Take #3: Capitol One's First Open API — 12 Months Later it 's eating a Startup's Lunch

When VISA, Deutsche Bank and others started to open their data assets for developers, it was clear that Capital One needs to move into this space sooner than later. Now the bank claims a leading position with external developer relations.
Capital One's dev team launched four APIs in the last 12 months: Rewards, Credit Offers, Bank Accounts Starter (helps you start a bank account), Consumer Identity services.
The value of providing an API was unlocking the potential of developers inside and outside Capital One. The bank already built a strong environment with key developer evangelists and a bunch of open APIs.
From the presentation and slides I've seen, I can tell that Capital One used Value Proposition Design to find out about their consumer's needs — enabling a high degree of confidence without friction for consumers. Their API management looks solid with a bunch of open source API management software products and an agile workflow to secure a dev friendly environment.
Nevertheless, the cultural change the team is facing was one of the big obstacles.
Why this is important: Capital One is not leading the way. Nevertheless, it shows that the financial industry's effort to partner with and learn from startups is paying off. Banks are gaining ground again, and startups are risking their position at the edge as the outperformer and unconventional thinker.
Take #4 Redefining the Luxury Segment with Sustainability, Creativity, Collaboration and Conscious Design
The question was: How will millennials embrace the business of luxury — and what that term means in their lives — in an ever unpredictable social and economic climate.
More takeaways from this session will follow in a separate blog post here on Bagaboo.de (May '17).
I was impressed by how Levi's is building new standards into their products.
Why it was important: A stronger developed baseline of a new (sustainability) standard for producers, vendors AND even their affiliated online stores are established within the entire fashion industry — not just the luxury brands. If this trend is fostering, we will see more build-in sustainability and social impact initiatives in 2017/18.
Take #5: Kara Swisher Got In The Mood — With Obama's Former Media Team. And Jon "Podcast" Lovett.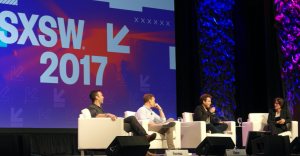 Progressive media has had not the best history in America. Recode Decode's Kara Swisher (and my personal all-time favorite show host) was in a very "what the fuck" kind of mood with "three white guys" on stage.
And, speaking of egomaniacs, she finally moved over to Donald Trump and her undeniable thesis that the 46th president helps new progressive media outlets to grow like crazy. The #Resist movement provides huge opportunities and spurned unseen levels of activism.
"Big cultural and economic forces made Trump possible. And if something is not addressed properly, it will open doors for monsters.", Jon Lovett (Jon Lovett from Crooked Media said. And I'm afraid he's damn right.
The panel agreed that the US media's political analysis is broken and that the media is responsible to treat Trump as a media celebrity whereas Hillary Clinton was treated as a politician.
Jon Favreau (Jon Favreau) added: "A presidency is about personality and not Zuckerbergish tech billionairism." — to answer the question if once a billionaire from New York could make it, Zuck could make it too.
Why it's important: The US provides the blueprint for what could happen with Europe's media landscape.
Take #6: AI + Machine Learning Impact Application Design and Politics
This panel was facing the current and next wave of AI: We're going to finally humanize Artificial Intelligence — Alexa, Siri and Roomba are already branded, and they became personalities that are loved.
The trend to keep the experience with AI and Bots hidden to the end-user will backfire one day.
There'll soon be another separate story here on Bagaboo.de
Why it was important: While most AI/ML experiences are powered by platforms like Apple, Amazon, Microsoft, IBM or Google, we need to think how our personal moments and privacy should not only be attached to the Big Five. I think privacy will have its revival in the AI/ML world and data will be the passports to compete with the Big Five.
Take #7: CNote Won SXSW's 1st Super Accelerator Competition — Saving Money with Social Impact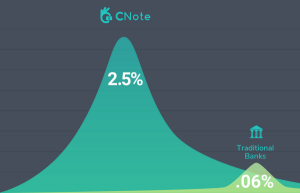 CNote was chosen as the 2017 Best Startup Pitch Company after besting ten of the best companies during the first SXSW Super Accelerator Pitch Competition.
Why is this Important: #Diversity might have finally arrived in 2017! Here's a team of two women with immigrant backgrounds, in the male dominated fintech industry — winning in this highly competitive space. It couldn't have been harder. Catherine and Yuliya, you guys deserved it so very much!
Take #8: Building a Design driven Culture. Get Shit done.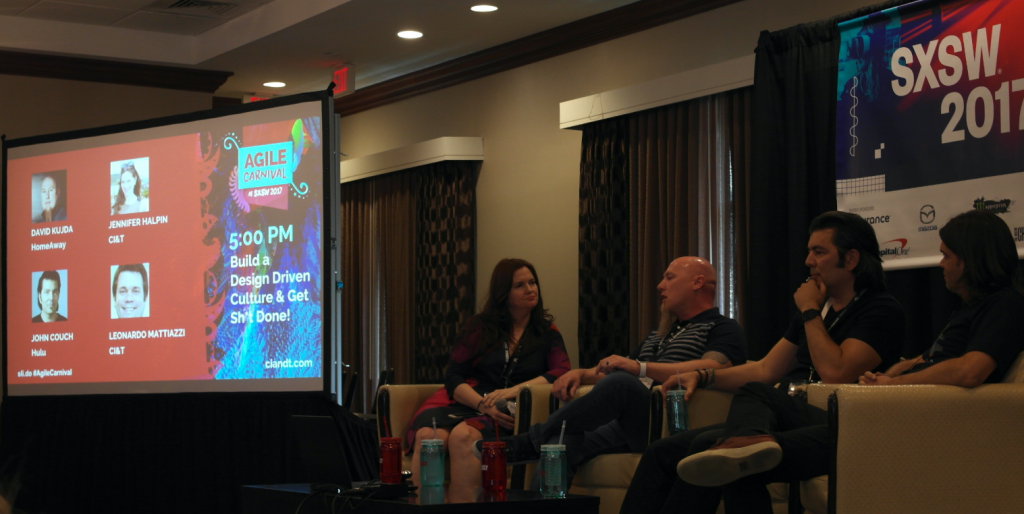 Couch and Kujda told stories from PayPal and Ebay and how technology and engineering lead in many ways the product. Design just kicked in to beautify the surface. In 2017, Design finally became a part of the problem solving process, helping to understand if you're really tackling the right problem.
The role of the relatively new established Design Technologist at HomeAway accelerated the digital outcome of the company. A usability lab in the middle of the newly refurbished design center then helps to test hypothesis and assumptions before the design process starts.
What makes a good designer these days: David Kujda from HomeAway says that the former mindset of a designer is not needed anymore. Designers are now set up to create experiences. Any process needs to move around this.
He added that his teams have started to foster a culture of not being deadline driven but instead are driven by achieving a certain experience.
"State Of Design Thinking Is Like Teenage Sex"
Leonardo Mattiazzi from CI&T mentioned that design thinking still is like teenage sex. Every company says they're doing it but nobody has a clue or experience. Nevertheless, you need to start to change the behavior of a company and its teams somehow.
Why this is important: Building strong design systems and changing the meaning of design becomes a priority in startups, agencies and corporations alike. My thesis is that we'll see more of this form of design thinking across all industries.
Oh, one more thing: This was the one and only image I shared from the SXSW – "we're all equal" is probably the most important message from the festival!
Did I miss anything? Text me: steve.nitzschner (at) wildstyle-network.com
And see you next year at SXSW '18!
Save
Save
Save
Save
Save
Save
Save
Save
Save