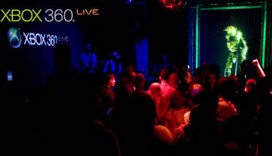 Jeeez, I am a living witness! Basicly I was not expecting anything. I got an invitation to Xbox' "LIVE IS FIVE" (5th anniversary) party in Berlin. After taking the last flight from London, I arrived after 11 at the party at the Pulp Masion club in Berlin.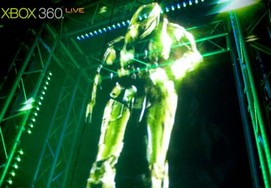 The party was already burning (might be because of free drinks for journalists *yeah*), the DJ was tight and just 30 minutes after midnight a band appeared on the tiny stage. But it was not only the band! The incredible Master Chief (the one-man-army behind HALO 3 – an exclusive game for Xbox 360) appeared as a hologram just next to the band called "THE LIVES". Fantastic! But it became even more heroic. THE LIVES were performing two songs: "7 Nation Army" from THE WHITE STRIPES and another dancefloor burning tune from Mr. JUSTIN TIMBERLAKE, perfectly sang by the Master Chief himself!
After some seconds, I realized the Master Chief was performing LIVE!!! He was completely in sync with the band and shouted to the audience. I have no idea how this works but it was impressive! My dudes from Wildstyle Network were responsible for this outstanding stuff! Nuff Raspect for that! A friend who attended the LIVE IS FIVE party in Munich told me something about a small video taken with his mobile. Gimme a minute – I'll investigate to post it here soon and keep you updated on this unusual game and product promotion!
See more pics of this event at Nachtagenten!
or see the pictures on Xbox' site LIVE IS FIVE.