Top 5 UX trends for 2023.
Every year, I think about past and future trends in UX to get an overview. In doing so, I first look at the trends that are hot and then analyze what impact they will have on our own, current and future projects. Thus, creating a foundation for an optimal strategic UX approach.
In this post, however, I don't want to list every UX trend, but describe the most important five.
Device Synchronization
This trend is especially important as it indirectly determines every other trend. Device synchronization allows users to seamlessly sync and use their data and settings across different devices. People don't just want high-quality applications, but also the availability of these on all their devices.
Who hasn't experienced getting information on a laptop and then opening the same website on a phone later, only to not find what they had previously found. Frustration is guaranteed.
Obviously there are many products to choose from – cheaper, more expensive, sparsely equipped or packed with functionalities. The choice is not a problem. The problem is whether a user can sync settings and content between a PC, laptop, phone, tablet, smartwatch, and any other internet-connected digital device.
Therefore, the well-known mobile-first design is extremely important and ubiquitous. People use their mobile devices in a variety of ways and for many reasons – booking flights, talking to friends, making online calls, shopping online and much more. Everything is done on the go, with a focus on speed and convenience.
That's why it's crucial that UX and UI design work together. UX designers must ensure that their applications are responsive and cross-device compatible to provide a consistent experience for users. Applications must adopt a design language that is clear and easy for users to scale. If this is implemented on each device, visitors will become paying customers.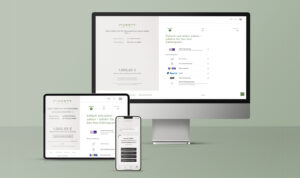 Cross-Application Design
This trend is particularly noticeable in the fintech sector, where many companies work with partners or use their tools to enhance their offerings. To ensure a seamless user experience, companies should integrate their partner's applications into their own product architecture instead of just communicating them through subpages.
For example, an app for paying electricity bills or taking out a mortgage from a third-party provider should display clear rules and options without leaving the look & feel and messaging of the app. This way, the user experience remains positive for the customer as they don't feel like they are using a partner's app.
Scrollytelling
Classic scrolling is increasingly tiring for the user. No one wants to scroll down to find relevant information, hoping that boring sections of the page will finally become useful.
Scrollytelling is a wonderful remedy for this. It is basically a technique in which the story of a website or application is told through scrolling. It combines narrative techniques with interactions and animations. For example, the user scrolls and sees a series of animations that pop up next to the text in the middle. Or an additional graphic that explains what you just read. Dynamic elements lure the user through movement, color, and contextualization. An advantage of scrollytelling is that it presents content in an engaging and entertaining manner, thus holding the user's attention. It can also be used to make complex information more understandable.

Witnesses to History Keepers of Memory – Portraits of Montreal's Holocaust Survivors
Emotional Design
Emotional design is becoming increasingly important in the UX field. It aims to enhance the user's experience by incorporating emotions in a positive way when interacting with products and services.
The app provides the user with feedback, context, and positive reinforcement. "You saved this month!" "You just broke your 5000-meter run record!" "You collected more business leads this week than last week!" Congratulations!
Designers who perfect their gamification methods using rewards, feedback, and reinforcement will motivate their users and create a sustainable connection between the user and the application.
The application's messages to the user are usually a combination of microcopy and graphics. Emotional design approaches lead to higher user satisfaction and loyalty, leading to long-term growth 
Metaverse
The Metaverse, a world that extends across multiple virtual realities and platforms, is a growing trend in the UX field. The possibilities are seemingly unlimited, and who knows, maybe we will soon face a world like "Player Number One." Already many users interact in VR worlds to work, play, or learn together.
To meet the demand both in quality and quantity, specialists are needed to develop and design the user experience and user interface in virtual space. It requires UX designers to deal with new forms of interaction, navigation, and design guidelines for this type of 3D environment. It will be important to create a natural and intuitive experience while users move in this new digital world.
Collision Zero – The Future of Public Accident Prevention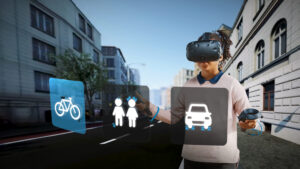 Conclusion on the UX design trends 2023:
These are just some of the most important UX trends for 2023, but they give a good overview of what aspects should be considered in designing applications. I'm looking forward to the new challenges, because it will be exciting for sure!