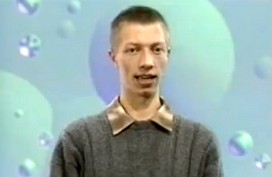 A youthful folly – when history overruns me… Back in the days in 1996 (when I was 16!) I was jobbing at a TV station. For a fee of 150 Deutsch Mark per show, I 've been writing, hosting and producing a music TV show called Sound Shake which was finally broadcasted in East Germany and some local TV stations in the south (Munich) and west of the country.
[youtube=http://www.youtube.com/watch?v=0EW2BW8ZMEU]
What a surprise – at the end more than hundred thousand viewers were watching these 45 minute shows and the music interviews I was doing with Boy George, Ricky Martin, Caught in the act and Mike Lehmann – just to name a few. Supermario and I were producing specials also in New York, London, Hong Kong and Paris where the DJ world championchips took place. It all stopped when MTV Europe was asking me to host a DJ show and come around for a casting… Becoming another Mola Adebisi, no thanks. Everything at a time when Email, Facebook or the Bagaboo Blog were things from outa space. But I enjoyed it and sometimes old school might be the best school! Trust me! Enjoy watching this (I did and it reminds me on some pretty good times).
via YouTube
Hopefully I will get a digital copy of the international shows. I only have tapes and no poss to convert :-(